OUR MISSION
PROCLAIM TRUTH, SPREAD LOVE, EMPOWER DISCIPLES
We envision a community grounded in the Gospel, God's truth, and love. We believe in the Church's responsibility to bear witness to God's incredible and transforming love in our community and beyond. That's why, in all that we do, we strive to proclaim God's truth and word, spread His love to everyone, and make committed disciples of Jesus Christ.
OUR STORY
IN MISSION SINCE 1812
A constant presence in the community since 1812, Ebenezer Church has endured for generations – a rock of hope in the community through its toughest times. For over 200 years, Ebenezer has never stopped delivering on its promise to Proclaim God's Word, Spread God's Love, and Make Disciples of Jesus Christ.
OUR LEADERSHIP
MEET OUR PASTOR + STAFF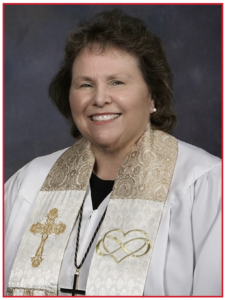 REV. JUDITH A. EMERSON
LEAD PASTOR
Rev. Judy Emerson began her appointment at Ebenezer United Methodist Church on July 1, 2006. She has a Bachelor's Degree from the College of Notre Dame of Maryland and a Master of Divinity from Wesley Theological Seminary in Washington, DC. Rev. Judy serves as an Ordained Elder in the Baltimore-Washington Conference of the United Methodist Church. Prior to her appointment to Ebenezer United Methodist Church, Judy served the Maryland Congregations of Towson UMC, Nichols- Bethel UMC, and Woodberry UMC as a Pastor. She also served as a staff member at Linden Heights UMC and Arnolia UMC.
Rev. Judy Emerson can be reached at the church at 410-795-6136 or by email at REVJAE@AOL.com.